The ambulatory triage group (ATG) pager will be covered by the medical resident on call (MROC). This coverage includes the catch all sign-out pager (6631) for all residents not on an inpatient service (ie if you are leaving on vacation, or out of town for the weekend, or you have left clinic for the day). Below is an updated, daily ATG schedule as well as a brief summary of ATG responsibilities
Daily ATG/MROC Schedule
7AM: Sign into the ATG pager (6631). Please communicate with the previous day's MROC if you want them to sign you in at 7am on your day

7AM – 5PM: Answer any urgent triage questions regarding residents' patients whose pagers are signed over to the ATG pager (as noted above).

12PM (Saturday-Sunday) or 5PM (Monday-Friday): Sign into the MROC pager (1212) and physically come in to the hospital

5PM – 7AM: Respond to both ATG and MROC duties

**For more information regarding the MROC, please refer to the Administrative Tab –> Service Rules –> MROC/MIOC.
Brief ATG Summary
You will receive a text page with the patient's name, date of birth, PCP, basic complaint, and callback number.  If the callback number does not work, you can call PCG (773-702-6840) and get routed to the answering service. In order to receive the aforementioned information (rather than simply a 10 digit callback) you must be using your assigned pager. If you are using someone else's pager, please page CROC to let them know.
Pages should be returned within 15 minutes. If you do not respond to the page and the patient calls back the answering service, you will receive a second page. If the second page is not returned, the answering service will send a 10 digit page with the clinic phone number, with the expectation that you call the answering service back them to let them know that you received the page and are working on it. If you do not call the answering service to let them know that you are calling the patient back, the page will be directed to the attending on call (which we would like to avoid).
Document a brief summary in EPIC via phone encounter (open and close the encounter). The ambulatory chief receives a copy of the previous night's call logs every day, so if you ever want to verify the name and DOB of a patient let them know and they can forward you a copy of the call log.
General guidelines for telephone call:
You should have a lower threshold to refer patients to the ED because it can be difficult to assess severity of symptoms/stability over the phone
If a patient needs an Urgent Care appointment, they can be made as follows:

Patients can call the PCG schedule line @ 773-702-6840 after 8 am
You can e-mail pcg.schedule@uchospitals.edu; e-mails to pcg.schedule are checked at least once every hour Mon-Fri.  You can also route to PCGorders in Epic.
If an appointment is urgently needed, you may page your firm nurse 8am-5pm on Mon-Fri

In general, DO NOT initiate or up-titrate narcotics over the phone (this includes Vicodin, T3 and Ultram)
If prescribing medications, always ask about allergies and other meds (i.e. OCPs and coumadin when giving antibiotics)
If you need backup on a clinic question, the attending on call in PCG or the CROC (2762) are always available.
To reach the attending on call, you can reference the calendar below and page the attending directly. Alternatively, you can call the PCG clinic number 773-702-6840 and connect to the call center to have them page the PCG attending on call to your phone number
*** If someone calls for a med-peds resident and accidentally gets sent to you please have them page the med-peds group.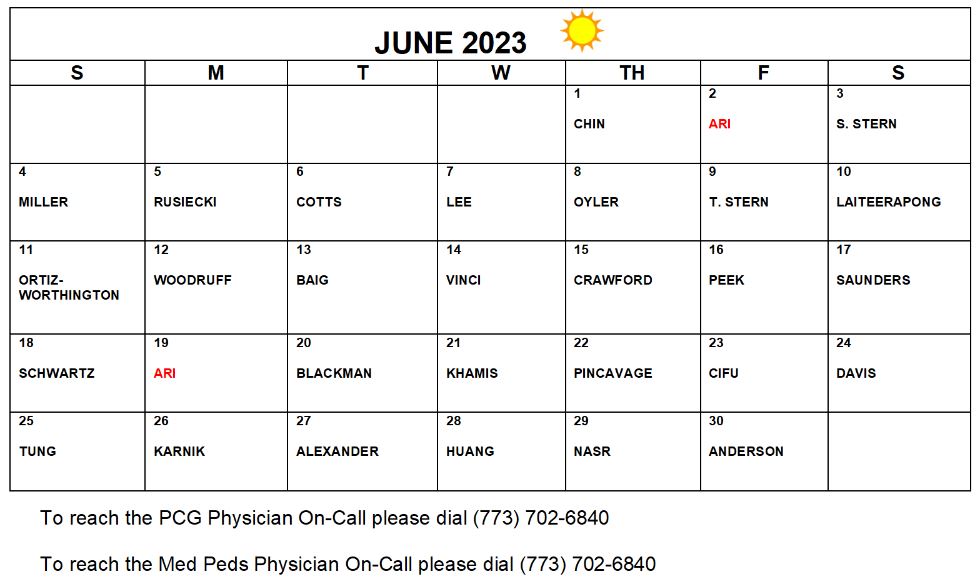 To reach the PCG or med-peds physician on-call, please dial 773-702-6840